Animal-Assisted Therapy (AAT)

Pets can be good for our health. They are known to increase a sense of well-being and reduce our stress levels. Animal Assisted Therapy (AAT) is an innovative intervention in which an animal becomes a crucial and highly effective part of the treatment process. Animals can give therapists the tools they need to begin and maintain an effective treatment program with solution-focused therapy. AAT can improve a person's social, emotional, and cognitive functions.
When a client gets unconditional love from an animal they give bet​ter responses during therapy.
Having a warm, furry animal to stroke and hug is therapeutic to clients who are not comfortable being touched by people.
Watching a pet jump around and play can be relaxing and fun for even people who don't like animals.
Receiving unconditional love and affection from an animal can teach clients especially children to develop nurturing skills, which they may not have been able to learn from people.
For seniors, the benefits of a furry companion can be life-changing. Walking a dog is great cardiovascular exercise, but just the simple act of caring for a pet-petting, brushing, feeding-provides both mild activity and a means to stay engaged with the world.
We Work With Special Needs in Our Community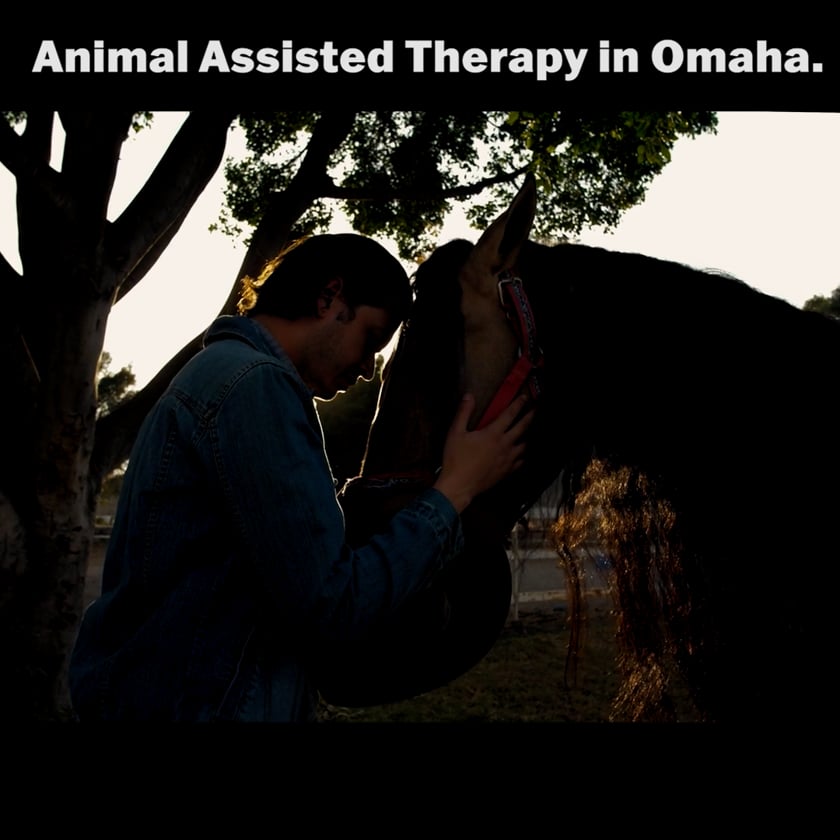 If you or a loved one have one or more of the following diagnoses, you may benefit from AAT:
ADD/ADHD
Autism/Asperger's Syndrome
Substance Abuse
Attachment Issues
Trauma/Loss Situations /Grief
Low Self-Esteem
Anxiety disorders
Behavioral/Emotional Concerns
Depression/Bi-Polar Disorder/Anxiety
Abuse/Trauma/Pain (Physical, Emotional and/or Mental)
Social and Relationship Issues
Eating Disorders
PTSD
Equine-Assisted Psychotherapy (EAP)
(Individual, group, family, and corporate)
What is EAP?
EAP is a collaborative effort between a licensed therapist and a trained horse professional that works with clients and horses to address treatment goals. EAP is considered a short-term or a "brief" approach to therapy because it has a high level of intensity.

EAP is an experiential therapy, which means that participants learn about themselves and others by participating in activities with the horses, and the processing (and discussing) of feelings, behaviors, and patterns. EAP has been compared to therapists using ropes courses, but the primary difference is that EAP has an added advantage of utilizing horses, which are dynamic and powerful living beings.

Not all programs or individuals who use horses for growth and learning use EAGALA-model. Based upon the EAGALA model (Equine Assisted Growth and Learning Association) there needs to be a licensed therapist, a highly trained horse professional, and a horse to complete therapy. The focus of EAGALA-model EAP is not based upon riding or horsemanship, but is set up around using ground activities with the horse. At Refuge, the core foundation to the EAGALA model, includes:
The Team Approach – An Equine Specialist, an EAGALA certified Mental Health professional, and horses work together with clients in all EAGALA sessions
Focus on the ground – All EAGALA sessions are on the ground with horses (no mounted work)

Solution-Oriented – The belief that our clients have the best solutions for themselves forms a foundation for the EAGALA approach. Rather than instructing or directing solutions, we allow our clients to experiment, problem-solve, take risks, employ creativity, and find their own solutions that work best for them.
Code of Ethics – EAGALA has a code of ethics, and a standard of professionalism and ethics.
How does EAP help?
EAP benefits the client by presenting an opportunity to build life and social skills that are needed to enhance the client's life. This is accomplished by the therapist incorporating tools to help the client, such as; non-verbal communication , assertiveness, creative thinking, problem solving, leadership, taking responsibility, team work, relationship building, confidence building, and attitude improving.
Who can benefit?
EAP is a powerful and effective therapeutic approach that has an incredible impact on individuals, youth, families, and groups. Anyone that has mental health or development needs that wants to improve their lives and desires change.
The types of conditions and needs that are served include:
• Behavioral needs
• Substance Abuse
• Chemical Dependency
• Depression
• Communication needs
• ADHD/ADD
• Eating Disorders
• Anxiety
• Post Traumatic Stress Disorder
• Emotional Disabilities
• Abuse/Neglect issues
• Relationship problems
• Parenting
• Anger Management
Seniors
Humans benefit greatly from the companionship of a pet. An animal in the life of a senior can give them new meaning and improve their well-being, so it is important for seniors to have a pet in their living environment.Unfortunately, not many senior living communities are allowed to have their pets with them and that is where Scatter Joy Acres brings our animals in for seniors to interact with.
For seniors, the benefits of a furry companion can be life-changing. Walking a dog is great cardiovascular exercise, but just the simple act of caring for a pet-petting, brushing, feeding-provides both mild activity and a means to stay engaged with the world. Pets can make the elderly feel needed, and that feeling can translate into a greater sense of purpose and self-worth.
During what can be a lonely time of life, the unconditional love of a cherished dog, goat, llama or donkey can be a bridge to more socialization with others, lowered stress, mental stimulation and a renewed interest in life.
Since children naturally identify with animals, we can use interactions with animals to teach children how to behave towards other people.  Often when children are abused, they turn their hurt around to abuse others. By teaching empathy and uniting kids with all life, our At-Risk Youth program helps turn these kids from the inner city into protectors instead of abusers.
We believe that our animals are particularly helpful with these children. First, the animals at Scatter Joy Acres all have histories of abuse, neglect, abandonment or worse.  Often the children share similar pasts, and hearing the stories of the animals helps them see that change is possible. Second, as they see that the animals are safe here with us, the children begin to open up, as they too feel safe. Finally, we believe that animals, with their unconditional love and non-judgmental attitude, can often reach kids more deeply and effectively than people can. As the children learn to love the animals, they simultaneously learn to love a part of themselves. As they learn to understand the animals, they learn to understand a part of themselves.
Identifying with the animals at Scatter Joy Acres helps the children feel safe. When we explore how our abused animals have learned to forgive and overcome their pasts, the animals become role models helping the children reach their goals of surpassing their pain and reaching for their bright futures. We believe that animals can provide unconditional love, kindness, and a non-judgmental attitude to all.  The animals at Scatter Joy Acres have so much love to give back, and we believe they are perfect for people with special needs.
Scatter Joy Acres environment is safe and quiet, giving your special needs group the freedom to be themselves, and the room to explore at their own pace. The animals teach forgiveness, love, trust, and a sense of responsibility, which means a lot too many special needs children.
Veterans
Veterans are often seen as heroes but are very much an under-served population. Upon returning from combat, many soldiers experience symptoms of mental illness such as post-traumatic stress disorder (PTSD), depression, anxiety, and addictions. A traumatic brain injury (TBI) often occurs with mental illness and it exacerbates symptoms.
Veterans face and increased risk of violence, homelessness, often due to untreated mental illness. The effects of symptoms affect not only the veteran but relationships with others. Even with so many veterans in need of treatment, dew actually receives help for mental illness due to stigma or limited accessibility of resources.The proposed interventions including social learning theory and animal assisted therapy(AAT) as a mean of providing education, changing stereotypes, reducing stigma, and encouraging change from non-judgmental helpers(i.e. animals). With training and treatment it is hoped that veterans' symptoms will be alleviated and healthier lives can become reality.
We not only work with the Veteran we work with family members as well. The veteran who has returned home is not the same person and children and spouses are also affected by this change.
SCHOOL EDUCATION
Contact with animals is educational. Too many urban children miss out on this valuable opportunity.
At Scatter Joy Acres, we have ample opportunities for children to safely interact with a wide variety of animals that are well socialized and engaging.
Whether you come to the ranch or we bring the ranch to your school or daycare, the opportunities are endless. So is the joy.
We offer field trips for groups of all ages from infants to adults. There is something for everyone at Scatter Joy Acres.
Children love meeting our animals. And our animals love meeting them.
All the animals are well socialized with people and love to encounter new friends.
We frequently have baby animals, especially in the spring time.
We have a playground and many fun games, stories and lessons.
The adventure is yours to create. It can be fun and educational.